62092
Elena
Russia
City: Penza
Age: 52
Birth Date: 5/3/1961
Weight: 125lb, 57kg
Height: 5'4", 163cm
Measurements: 33-25-34
Measurements cm: 84-64-86
Eye Color: Green
Hair Color: Blonde
Marital Status: Divorced
Children: 1 - Daughter, 16 y.o.
Religion: Christian
Smoker: N
Drinker: N
Education: University
Company: Private firm
Job Title: Economist
Years Worked: 15
Sports: Water sports
Hobbies: Flowers, travel, design landscape


Self Description: I am cheerful, calm, tender, sincere and responsible. I speak fairly good English.

Comments: I would like to meet a decent and kind man who is able to understand and love with the deep of his soul.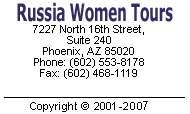 Women from other countries:
Ukraine (11749) Philippines (10068) China (3798) Colombia (2980) Russia (2421) Peru (1351) Costa Rica (827) Thailand (710) Dominican Republic (478) Belarus (239) Brazil (137) Latvia (13) USA (7) Kyrgyzstan (6) Indonesia (6) Panama (6) England (6) Kazakhstan (5) Argentina (4) Belgium (4) Canada (4) Saudi Arabia (4) Lithuania (4) Hong Kong (3) Romania (3) Uzbekistan (3) Israel (3) Ecuador (3) Finland (2) Moldova (2) Turkmenistan (2) United Arab Emirates (2) Sweden (2) Taiwan (2) Bulgaria (2) Nicaragua (2) Honduras (2) Azerbaijan (1) Ghana (1) Germany (1) France (1) Estonia (1) Cambodia (1) Czech Republic (1) Georgia (1) Singapore (1) Mexico (1) Japan (1) Hungary (1) Cyprus (1) Uganda (1) Australia (1) Netherlands (1) South Korea (1) Greece (1) Bolivia (1) test (1) Norway (1) Poland (1) Malaysia (1) Kenya (1) Italy (1) Spain (1)

Singles Exchange