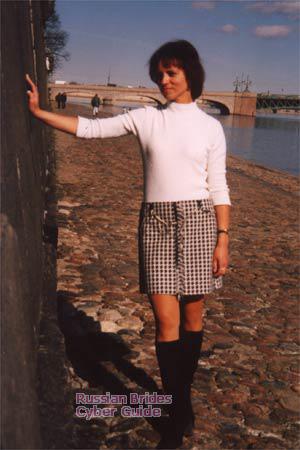 52112
Tanya
Russia
City: Saint Petersburg
Age: 50
Birth Date: 10/13/1962
Weight: 105lb, 48kg
Height: 5'3", 160cm
Measurements: 32-27-33
Eye Color: hazel
Hair Color: auburn
Marital Status: Divorced
Children: 0
Pets: 2
Religion: Orthodox
Smoker: N
Drinker: N
Education: Commercial Institute
Company: Museum Shop
Job Title: Economist
Years Worked: 17
Sports: Figure skating, tennis
Hobbies: Theater, knitting, learning languages


Self Description: I am slim, feminine, attractive, stylish, loyal, lively, calm, hard-working, spiritual, intelligent, receptive, lusty, honest, dependable, and sensual. I speak English and am learning French and German.

Comments: I would like a man to be musculine, trim, honest, dependble, loyal, intelligent, kind, energetic, educated, with a sense of humor, and who loves children and animals.